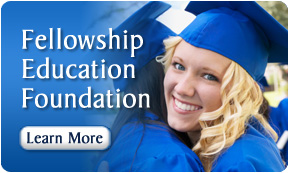 Featured rates
Featured Rates
Effective Date: Friday, April 28th, 2017
Name
Rate
Term
New/Used Auto Loans
As low as 2.49%
72 mo
Visa Credit Card
As low as 6.90%
Savings Account
0.25%

*APR: Annual Percentage Rate
**APY: Annual Percentage Yield
credit union news
Minimize Your Car Payment!
Get the Best Deal on Your Auto Loans here at Fellowship Credit Union! Rates starting as low as 2.49%! With Approved Credit. Limited Time Offer.
2017 Scholarship Recipients - Congratulations!
Jessica Dieterle, Jolynn Rider, MacKenzie King, Marci Amrine, Marshall Pierce, Samantha Salas, Shahana Herring-DeVargas, Trace Salzbrenner, and Tyler Geddes
Student Loan Services
Fellowship Credit Union has partnered with Sallie Mae to offer Student Loan Services. Click here for more information!