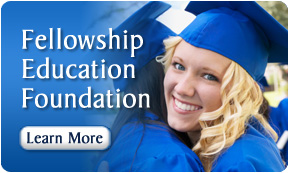 Featured rates
Featured Rates
Effective Date: Thursday, September 29th, 2016
Name
Rate
Term
New Auto Loans
As low as 5.00%
60 mo
Used Auto Loans
As low as 6.50%
60 mo
Savings Account
0.40%

*APR: Annual Percentage Rate
**APY: Annual Percentage Yield
credit union news
Welcome New Fellowship Credit Union Members!
We are pleased to announce that as of October 1st, Arkansas Valley Federal Credit Union will have merged with Fellowship Credit Union. We would like to extend a warm welcome to our new memebrs! Our locations will be in Lamar, Holly, Las Animas, and Rocky Ford.
Home Banking Maintenance
Our home banking feature will be unavailable from Friday, September 30th at 6:00 PM until Saturday, October 1st at 10:00 AM for maintenance. We apologize for any inconvenience.
Student Loan Services
Fellowship Credit Union has partnered with Sallie Mae to offer Student Loan Services. Click here for more information!
Fellowship-Suposs Youth Financial Education Foundation
Congratulations to the recipients of the 2013 scholarships: Chance Amrine, Genesis Avalos, Dillon Bohlander, Juan Chavez, Keenan Davis Juan Diosdado, Jr., Mykinthia Ebron, Dylan Hammit, Kayla Hannel, Kolby Palmer, Sabra Perdue, Jolynn Rider, and Maggie Schneider!